If you are a Free user, you must always include the attribution line Designed by PoweredTemplate on the final products, presentations or designs you use our resources for, whether these are physical or digital products.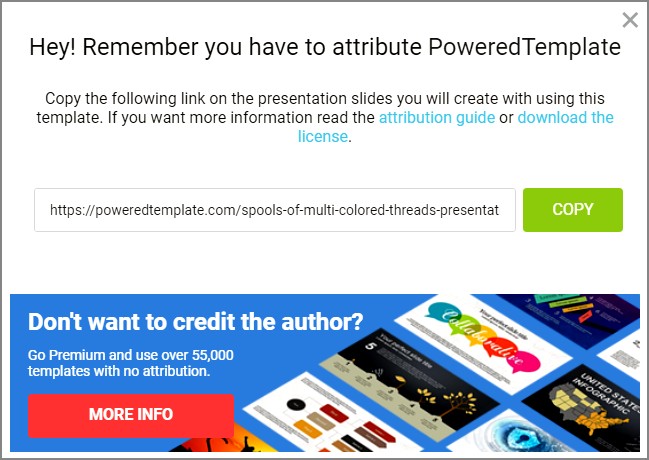 Below you can find some examples about how to add the attribution:
Insert the attribution line in the credits section of your presentation. If it's not possible, place it wherever it's visible on a web page, close to where you're using or adding the resource.
For example: This presentation has been designed using resources from PoweredTemplate.com
Websites, blogs, e-books, newsletters
We recommend placing the attribution line next to the PoweredTemplate image or template that is being used and a link to our website https://PoweredTemplate.com. If you cannot add it next to the image or template, you can place it in the footer of your website, blog or newsletter.
The attribution must be always clear, visible and easy to find for your users or clients.
Social network profiles or posts
We recommend adding the attribution line Designed by PoweredTemplate in the image you are using and/or in the text description of the post, together with a link to https://PoweredTemplate.com (except for Instagram, where you can add Designed by @PoweredTemplate).
For printed products such as brochures, newsletters, posters, books, magazines, vinyls, flyers, etcetera, we recommend placing attribution somewhere on the printed product you are creating, but it has to be visible for the clients/users. For example, this might be the bottom of the page.
If you're printing a book using a resource from PoweredTemplate on the cover and you cannot add the attribution line on the cover itself, you should place it on the credits page or include it in the bibliography. The attribution must always be clear and visible to the users.
Example: Brochure based on template from PoweredTemplate
If you want to use our resources in a video, you must include the attribution line in the video itself, by adding it to the credits' section or at the end of the video. You must also add a link to our website in the description box of your video if this is available for watching in any website.
When using our resources for a mobile or game app as a free user, please remember to include the attribution line on the credits page of your app and in the text description added to the app store or any website where the app is available from.
In case you want to use our products without adding the attribution line, you must acquire one of our PoweredTemplate Premium plans.